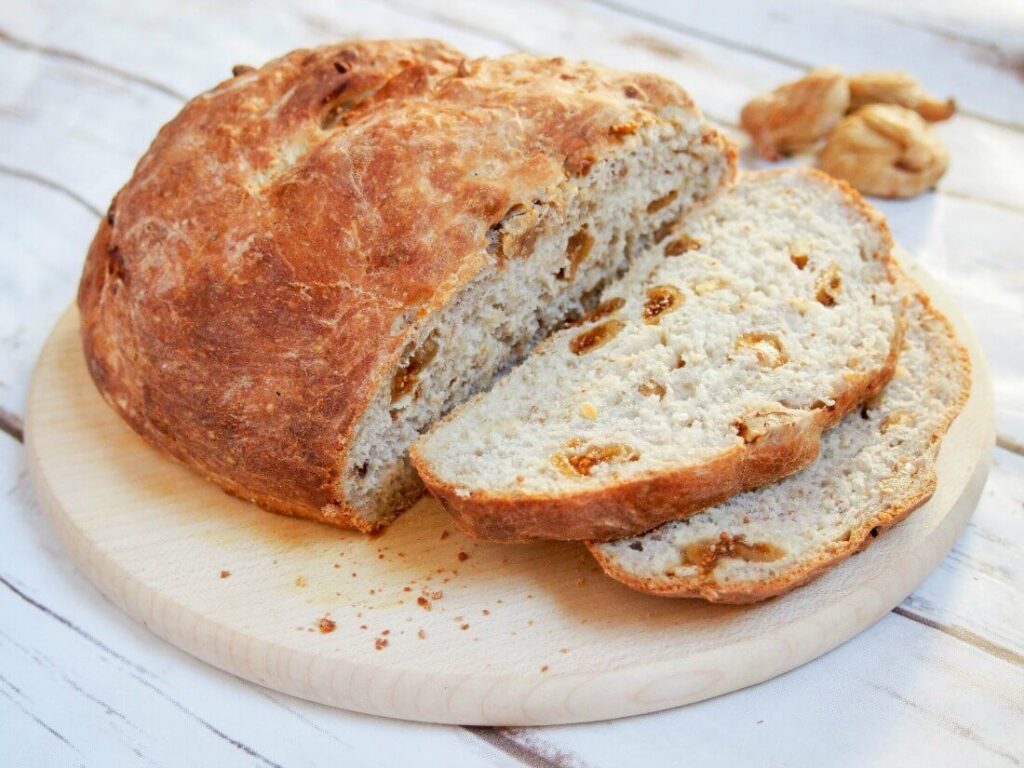 Count your blessings.
Advertisements are splashed everywhere to grab our attention to buy services or products that we most likely don't need. It's hard to ignore good bargains or sales, even on holidays. As consumers we benefit from products that facilitate our lives, because of efficiency, necessity or convenience; but we should have things in moderation. We have to wonder whether we really need half the things we spend our time and money on. If we have what we need just for today, we lack nothing. Be content with what you have on hand, each day.  
19 "Do not lay up for yourselves treasures on Earth, where moths and rust destroy and where thieves break in and steal; 20 but lay up for yourselves treasures in Heaven, where neither moth nor rust destroys and where thieves do not break in and steal. 21 For where your treasure is, there your heart will be also." (Matthew 6)
What we spend most of our resources on becomes our source of joy and confidence. It's necessary to have shelter, food, clothing, health and other basic amenities. Treasures are the things we store up to secure our future. Christ warns us not to settle our hearts on just earthly treasures, which are here today and are not guaranteed in the future. If we learn to invest in eternity, we will not build our hopes on the ephemera. Eternal treasures are rewards that God sets aside for us, because we have prioritized righteousness, love, compassion, obedience, faith and fellowship with Him. These are attributes that moths and thieves can not take from us. God will ensure that we have all the sustenance needed to do His Will. 
31 "Therefore do not worry, saying, 'What shall we eat?' or 'What shall we drink?' or 'What shall we wear?' 32 For after all these things the Gentiles seek. For your Heavenly Father knows that you need all these things. 33 But seek first the Kingdom of God and His Righteousness, and all these things shall be added to you. 34 Therefore do not worry about tomorrow, for tomorrow will worry about its own things. Sufficient for the day is its own trouble." (Matthew 6)
No one knows what tomorrow or the next hour will bring. Now is the hour we are living in, and we must make the most of it with what we have. Our Heavenly Father knows of all our needs. Seek His Kingdom—His Dwelling where He furnishes and supplies from. Ask for what you need from God's Glorious Riches and believe He is exceedingly capable to meet all your needs. Don't be anxious about what God can supply. Seek His Righteousness—keep His Ways and do what pleases Him. Though we may lack some necessities we are not restrained to obey and do what is right. Even in dire straits, we can still honor Him. And all these things—all the basic necessities— will be added to us. We are the initiators and God does the rest. Be content today with the little you have that can glorify God. Tomorrow is the distant future we can't control. Today's troubles don't equate to tomorrow's woes. No blessing is insignificant to use. Don't deny yourself what you can use today, because you are worried about tomorrow. 
7  How precious is Your Lovingkindness, O God! Therefore the children of men put their trust under the shadow of Your Wings. 8  They are abundantly satisfied with the fullness of Your House, and You give them drink from the river of Your pleasures. 9 For with You is the fountain of life; in Your Light we see light (Psalm 36).
God satisfies those who are nourished in His Presence. God is our full portion of joy and pleasure when in fellowship with Him. He lavishes His Lovingkindness on those who put their trust in Him. They are abundantly satisfied with His Provision. There's rest and hope for those who relish the Wisdom and Truth of God. They see life in a spiritual perspective, beyond their circumstances. They trust in God, Who, is their fountain of life. His Goodness is greater than all the world can offer. Be satisfied with Who He is and His Love for you. He has given us our loved ones to cherish and enjoy our days with. Sometimes, we just need to delight in the simplicity of God's blessings, the small mercies, and tune out other diversions. In the midst of dark circumstances, there's still some good. He gives us a fresh perspective on life; by His Light we see light.  
33 For the Bread of God is He Who comes down from Heaven and gives life to the world." 34 Then they said to Him, "Lord, give us this bread always." 35 And Jesus said to them, "I am the Bread of life. He who comes to Me shall never hunger, and he who believes in Me shall never thirst (John 6)."
Bread is nourishment that curbs hunger. It is a simple food that has existed from early generations. Bread will stave off hunger and delight the heart for a short time. The Bread of God is the Bread that gives life, even eternal life. The Lord Jesus is the Bread of life. He gives life to those who come to Him. They will not find enduring peace, hope, and joy in anything else. Those who believe in The Lord Jesus will not succumb to the pleasures of worldly things. In Christ we are complete. By The Life of Christ in us, we have everything we need to get us through hard and good times, beyond this life. The Bread of God gives life to those who will receive Him. May we become one with The Lord Jesus and be satisfied with everything He is in us. If we come to Him, we will not hunger and thirst for short-lived pleasures. 
15 As for me, I will see Your Face in righteousness; I shall be satisfied when I awake in Your Likeness (Psalm 17).
Righteousness is the beauty that endears us to God. When we live in righteousness, we become more like Him. We can behold His Face when we see ourselves expressing His Character. Though these bodies are not perfect, we are perfected from within. Be satisfied with the beauty of His Likeness in you. Don't fret about your outward appearance that is fading with age. These bodies were not meant to last. Adorn yourself with righteousness and see His Face shine upon you.
5 Let your conduct be without covetousness; be content with such things as you have. For He Himself has said, "I will never leave you nor forsake you." 6 So we may boldly say: "The Lord is my helper; I will not fear. What can man do to me?" (Hebrews 13)
How can we be content with what we have? By believing that God supplies our needs and will not forsake us. We must learn to be grateful for all that we have. When we are content, we don't desire what others have or compare what we have with others. If we can believe God is our helper, we don't have to fear if we lose some of our possessions. With contentment we affirm that God is with us at all times. Contentment enables us to see God's Provision at every turn. When faced with uncertain times, we can boldly say, "The Lord is my helper, I will not fear!" 
2 My brethren, count it all joy when you fall into various trials, 3 knowing that the testing of your faith produces patience. 4 But let patience have its perfect work, that you may be perfect and complete, lacking nothing (James 2).
Our faith is tested when we are facing circumstances that we have little control of.  We have to find a solid place to stand, when challenges become shifting sands. Trials can bring out the best or worst of us. It depends on whether we see the glass half-full or half-empty, as they say. Patience is waiting for change without losing our footing. It's difficult to remain patient when we are anxious about what we can't control. In order to be patient, we have to engage ourselves in other areas that need our attention. Let patience have its perfect work of resilience as you carry on with life. Patience will teach us to trust in God for what we can't see. Count it all joy, when you have mastered the art of patience, because you have the presence of mind. When we are impatient, we become unproductive. Patience will equip us to do more than just worry. If in the midst of trials, you can still be effective, then you are complete, lacking nothing. 
8 Oh, taste and see that The Lord is Good. Blessed is the man who trusts in Him! 9 Oh, fear The Lord, you His saints! There is no want for those who fear Him. 10 The young lions lack and suffer hunger; but those who seek the Lord shall not lack any good thing (Psalm 34).
Those who fear The Lord will not lack what they need to please Him. Those who trust God are blessed, because they depend entirely on Him. The Lord is always Good to those who seek Him and His Goodness. He is Faithful to those who put all their hope in Him, at all times. They shall not lack any good thing, because He is The Source of everything that is good. Be satiated with God's Goodness and marvel that you have no want for anything else.
We are complete and perfect from within, as Christ is The Life in us. We feast on Who He is and have no desire for anything else. He is our full portion, lavishing His precious Lovingkindness and Goodness on those who delight in Him. Be content and know that He will never leave you. Our best treasure is established in the heavenly-eternal rewards He has kept for us. We need not compare ourselves with others, we are blessed indeed. God will meet every need as we let patience make us perfect and complete.
6 Now godliness with contentment is great gain. 7 For we brought nothing into this world, and it is certain we can carry nothing out. 8 And having food and clothing, with these we shall be content. 9 But those who desire to be rich fall into temptation and a snare, and into many foolish and harmful lusts which drown men in destruction and perdition. 10 For the love of money is a root of all kinds of evil, for which some have strayed from the faith in their greediness, and pierced themselves through with many sorrows. 11 But you, O man of God, flee these things and pursue righteousness, godliness, faith, love, patience, gentleness (1 Timothy 6).