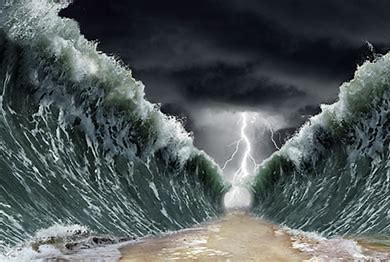 You are in Good Hands.
There are those who only do the bare minimum, and those who go the extra mile to get things done. We remember those who came through for us, at a time we didn't know who to turn to. Think of a time when you were facing an insurmountable burden and you felt helpless. Then your needs were met beyond your imagination; words can't express how it happened. God moves Heaven and Earth to answer when we call. He does exceedingly above what we ask. 
14 For this reason I bow my knees to The Father of our Lord Jesus Christ, 15 from whom the whole family in Heaven and Earth is named, 16 that He would grant you, according to the riches of His Glory, to be strengthened with might through His Spirit in the inner man, 17 that Christ may dwell in your hearts through faith; that you, being rooted and grounded in love, 18 may be able to comprehend with all the saints what is the width and length and depth and height— 19 to know the Love of Christ which passes knowledge; that you may be filled with all the Fullness of God.
20 Now to Him who is able to do exceedingly abundantly above all that we ask or think, according to the power that works in us, 21 to Him be glory in the church by Christ Jesus to all generations, forever and ever. Amen (Ephesians 3).
God gives according to the Riches of His Glory, not according to our deficit. He gives according to His abundance in His Glory. He strengthens with His Might, by His Spirit working in us. He doesn't strengthen us with our greatest might—human strength. Christ dwells in us, and by surrendering to Him, we have access to His Strength. By faith we have the Fullness of God dwelling in us—Christ Jesus and His Love. He loves us beyond our comprehension. He makes us one with Him so that we are never going it alone. He tends to us according to His Power in us, exceedingly and abundantly above what we ask or can imagine. 
5  You prepare a table before me in the presence of my enemies; You anoint my head with oil; My cup runs over. 6  Surely goodness and mercy shall follow me all the days of my life; And I will dwell in The House of The Lord forever (Psalm 23).
We are furnished from the riches of His Glory. He knows every affair of our lives, because we are welded together with Him. He knows our anxieties and our weakness, because He is in us. We must ask and pray in confidence, to receive according to His Power that is already at work in us. This is not Power that is far up somewhere, it is Christ in us. We can steel ourselves against our fears and adversities, because we are sustained by His Glorious Riches. Christ's Love for us is the Fullness of God poured into us, without measure, so that our cup runs over.
3 Then he said, "Go, borrow vessels from everywhere, from all your neighbors—empty vessels; do not gather just a few. 4 And when you have come in, you shall shut the door behind you and your sons; then pour it into all those vessels, and set aside the full ones."
5 So she went from him and shut the door behind her and her sons, who brought the vessels to her; and she poured it out. 6 Now it came to pass, when the vessels were full, that she said to her son, "Bring me another vessel." And he said to her, "There is not another vessel." So the oil ceased. 7 Then she came and told the man of God. And he said, "Go, sell the oil and pay your debt; and you and your sons live on the rest (2 Kings 4)."
This widow had just lost her husband, who owed a creditor a large sum that she couldn't pay. She came to Elisha, who was her late husband's master. He asked her what she had of value at her home, and she told him she only had her last jar of oil. Elisha told her to borrow many jars and fill them with the only oil she had. She did what Elisha told her, and when she ran out of jars, the oil stayed. She was able to sell it and pay off the creditor, and had leftover oil to sustain her and her sons. 
Trust God with what is in your hand, for your present needs. Those who are closefisted are unwilling to let God use what they have. They would rather squirrel away what they need, instead of using it. The widow obeyed what the man of God asked her to do, by using the only oil she had. Take the little you have and put it in God's Hands. God will supply your needs, and leave a surplus. His Love doesn't run dry. He exceeds expectations, because He will not give His Glory to another. He wants the memory of His Greatness etched in our minds—as inimitable. God makes a surfeit of our meager supply. He is the only One Who gives exceedingly, because He gives from His Riches.
8 But Jesus, being aware of it, said to them, "O you of little faith, why do you reason among yourselves because you have brought no bread? 9 Do you not yet understand, or remember the five loaves of the five thousand and how many baskets you took up? 10 Nor the seven loaves of the four thousand and how many large baskets you took up (Matthew 16)?"
6 So He commanded the multitude to sit down on the ground. And He took the seven loaves and gave thanks, broke them and gave them to His disciples to set before them; and they set them before the multitude. 7 They also had a few small fish; and having blessed them, He said to set them also before them. 8 So they ate and were filled, and they took up seven large baskets of leftover fragments. 9 Now those who had eaten were about four thousand (Mark 8).
The Lord Jesus took the seven loaves and gave thanks. Four thousand people were fed from seven loaves and a few small fish. They ate to their heart's content, until there were seven large baskets of leftovers. How often do we give thanks for the little we have? though it may not seem enough? Is little better than nothing? Of course it is. If we can be grateful for the little, we can be thankful for larger things. Faith is believing that the little we have is valuable. But we must be thankful for it to want to use it. We have to be grateful for small mercies. Be careful not to despise what can be used to benefit you or someone else. Don't deny to give the little you have at the present, because you don't believe it has any worth to someone else. Giving thanks changes our perspective and our attitude. Grow your faith with the little things. Faith is what's needed when there's hardly enough, otherwise it would be 'luck'.  Ask and give thanks, then start to carry out the task with what you have. After Christ gave thanks, He broke the bread and dished it out. Take the next step, by doing the next thing; just as you would if you had all that you needed. 
5 Yet The Lord says, "During the forty years that I led you through the wilderness, your clothes did not wear out, nor did the sandals on your feet. 6 You ate no bread and drank no wine or other fermented drink. I did this so that you might know that I am The Lord your God." 7 When you reached this place, Sihon king of Heshbon and Og king of Bashan came out to fight against us, but we defeated them (Deuteronomy 29).
There are times when God takes us out of our comfort, and we find ourselves in uncharted territory. We feel like a fish out of water with little control of our circumstances. We are forced to live in uncertainty, one day a time. When we are in this state, we must learn to depend on God. We must also learn to adapt to our circumstances. When the comforts we were accustomed to are no longer within reach, we have to learn to be content. The children of Israel could no longer eat bread and drink wine in the wilderness. They had to live on the basic victuals. They only had the clothing they had left Egypt with. Yet, God made certain that they were sustained for forty years in the wilderness. 
What is your wilderness? It might feel like you are stuck in a rut, and there's no breakthrough in sight. God changes seasons just as He changes our circumstances. We must spend our time in the wilderness depending entirely on Him. This is a place of learning and trusting. Until we learn to lean on Him in the wilderness, we will not be able to cling to Him in the place of prosperity. In the wilderness we are trained to humble ourselves, listen to Him, obey and wait on Him. So that when we come to the other side, we will never look to our skills, but His Power. We will be well positioned to take on anything that comes against us. We know our God better in the place of scarcity than anywhere else. If He is not God in our wilderness, then we wouldn't need Him in a land flowing with milk and honey. He must prove Himself, and how better than when we can't fend for ourselves. He goes before us to overcome all odds. The children of Israel knew that God was in their midst, because of what they saw Him do, in the forty years of the wilderness. They were unfazed in the face of adversity. 
When Abram was ninety-nine years old, The Lord appeared to him and said, "I Am God Almighty; walk before me faithfully and be blameless. 2 Then I will make My Covenant between Me and you and will greatly increase your numbers." 3 Abram fell facedown, and God said to him, 4 "As for Me, this is My Covenant with you: You will be the father of many nations. 5 No longer will you be called Abram; your name will be Abraham, for I have made you a father of many nations. 6 I will make you very fruitful; I will make nations of you, and kings will come from you. 7 I will establish My Covenant as an everlasting Covenant between Me and you and your descendants after you for the generations to come, to be your God and The God of your descendants after you. 8 The whole land of Canaan, where you now reside as a foreigner, I will give as an everlasting possession to you and your descendants after you; and I will be their God (Genesis 17)."
One man's faith in God became a blessing to many generations after him. When Abram heard God tell him He would give him posterity in large numbers, he prostrated before God and worshipped. Without any evidence of God's promise physically or naturally in Abram, at a hundred years old, he still believed. God commanded Abraham to walk before Him faithfully and in submission. Abram's name became Abraham. When coming from a place of uncertainty to a place of promise, look the part. Start by worshipping, then forge ahead into the new beginning, with a new attitude, and a pep in your step. God told Abraham that his descendants would be kings, and would inherit the promised land. Canaan, a foreign land, would become Abraham's possession.
What may seem like a pipe dream becomes a reality when God positions us at its doorstep. God needs something in return; our faithfulness and commitment to Him. Today, be established in an Everlasting Covenant with Almighty God, for you and your children. He extends His Blessings through us when we are faithful—full of faith. He will keep the legacy of our faith in Him alive, long after we are gone, by extending His Mercies and Covenant to our children.
12 Now the Lord blessed the latter days of Job more than his beginning; for he had fourteen thousand sheep, six thousand camels, one thousand yoke of oxen, and one thousand female donkeys. 13 He also had seven sons and three daughters. 14 And he called the name of the first Jemimah, the name of the second Keziah, and the name of the third Keren-Happuch. 15 In all the land were found no women so beautiful as the daughters of Job; and their father gave them an inheritance among their brothers. 16 After this Job lived one hundred and forty years, and saw his children and grandchildren for four generations. 17 So Job died, old and full of days (Job 42).
Job was put through the wringer with the loss of his sons, daughters and all of his wealth, in one day. Satan had asked permission to test Job; to prove if Job's loyalty to God was merely because He was blessed. God allowed Satan to afflict Job, but He was not to touch Job ( Job 1). In all this Job did not curse God. In the end God blessed Job with seven sons and three daughters and blessed his latter more than the former. 
Therefore, since Christ suffered for us in the flesh, arm yourselves also with the same mind, for he who has suffered in the flesh has ceased from sin, 2 that he no longer should live the rest of his time in the flesh for the lusts of men, but for the Will of God (1 Peter 1).
There's a possibility that the adversity we are facing may be a test of our faith and commitment to God. God will allow pain, suffering and sorrow, but He will protect us in the midst of it. Life is never fair here on earth. While in the doldrums, we have to be resolute to not give Satan what he wants—drifting away from God because we are offended. God gives and takes away, as Job well put it. We are not entitled to anything, but for God's Goodness we can draw a breath. When we have overcome by trusting God, He will honor our humility for surrendering to His Will. Job's life was restored to Him in great measure. He lived to see four generations of his children, with the most beautiful daughters in the land, and had much wealth. No matter what happens, keep God first and don't waver on His Faithfulness.
We are not poor, but rich in Christ. The manifold Goodness and Power of God abounds in us through The Love of God and Our Lord Jesus. We are strengthened by His Might and our needs are supplied according to His Glorious Riches. We should not fear adversity or scarcity. We have an abundant life in Christ Jesus. He brings us out of the wilderness so that we can enter into the place of rest, by faith and submission to Him. We are never in a permanent state of afflictions, because God Who creates yearly seasons, has new beginnings for each of us. We give thanks with the little we have, by giving it to Him. We live in the divine nature that is in union with Christ. Though we live in this world we are not constrained by our circumstances. Our cup (our being) overflows with joy, peace, love, patience, faith and hope in the confidence we have in Him. Our God is exceeding in Power, Love and Goodness. 
2 Grace and peace be multiplied to you in the knowledge of God and of Jesus our Lord. 3 His divine power has given to us all things that pertain to life and godliness, through the knowledge of Him who called us by glory and virtue; 4 by which have been given to us exceedingly great and precious promises, that through these you may be partakers of the divine nature, having escaped the corruption that is in the world through lust (2 Peter 1).