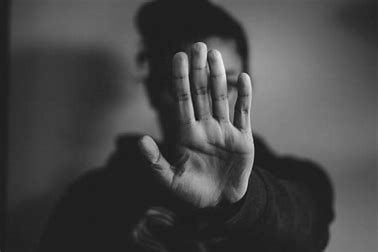 Hold your peace.
There will always be people who get under our skin. Arguments will ensue when we are at odds with others. When emotions get overheated, things can quickly spiral out of hand. We have to try and get a grip of ourselves before we say or do something regrettable. Our reaction determines the outcome we desire. It's difficult to keep a rein on our emotions, especially when we have been offended. 

23 Whoever guards his mouth and tongue, keeps his soul from troubles (Proverbs 21).

The more we speak of an offense, the angrier we get. We fan the flames of our own emotions by perpetually arousing them. The less we speak every thought, the less we will foam in the mouth. We are told to guard our mouth and tongue; keep our words caged in. We can keep our souls from bitterness and rage by putting a stop to any further discussions. 

Don't discuss your resentment for another, with everyone else. The more we tell, the more we remind ourselves how we feel.  We don't need to keep ourselves in a cycle of flashbacks; it will wear us out. Others don't need to be roped into our emotions. Likewise, we should reserve our opinion about a one-sided account. We have to be careful to get all the facts before making a poor judgement. 

19 My dear brothers and sisters, take note of this: Everyone should be quick to listen, slow to speak and slow to become angry. 20 Because human anger does not produce the righteousness that God desires (James 1).

It's no small feat to allow someone speak first; especially when we are in a heated disagreement. We should be quick to listen by letting them finish speaking—that can be an excruciating experience. We have to be slow to speak by weighing our words carefully; making sure we don't give a barbed response. Lastly, as we are listening, we should not be doing a slow boil; waiting to unleash potent venom. No one said being a Christian was a walk in the park. As long as we long for righteousness that God desires, we have to grin and bear it. Anger often harms others, without solving issues.

3 Set a guard, O Lord, over my mouth; keep watch over the door of my lips. 4 Do not incline my heart to any evil thing, to practice wicked works with men who work iniquity; and do not let me eat of their delicacies (Psalm 141).

When tempted to respond to others in kind, we will be hard-pressed to do the right thing. On our own, it's almost impossible to restrain ourselves from acting out of emotion. So we have to call on God to keep us back, from acting out with malice and anger. If we want to be on God's side, then we have to resist participating in works of darkness. As tempting as it may seem, we should avoid the delicacies that feed our emotions. The Lord will give us an alternative that will overcome the evil we desire to act on. We should try to steer away from the incitement of those who want to see a dark side. 

6 The tongue also is a fire, a world of evil among the parts of the body. It corrupts the whole body, sets the whole course of one's life on fire, and is itself set on fire by hell. 7 All kinds of animals, birds, reptiles and sea creatures are being tamed and have been tamed by mankind, 8 but no human being can tame the tongue. It is a restless evil, full of deadly poison. 9 With the tongue we praise our Lord and Father, and with it we curse human beings, who have been made in God's Likeness. 10 Out of the same mouth come praise and cursing. My brothers and sisters, this should not be (James 3).
The tongue is a reservoir for words that can bless, hurt or incite others. The body gestures what the mouth professes. The tongue has great power to build or destroy us and others. The same mouth we use to worship God, should not be used to speak evil against those God has made in His Likeness. Cursing others is cursing their Creator. Our words are a deadly poison for those who receive them, but more so for us who speak them. We are defined by what we speak brazenly. Our words will not go unpunished for the sin they express from within. 

34 " Brood of vipers! How can you, being evil, speak good things? For out of the abundance of the heart the mouth speaks. 35 A good man out of the good treasure of his heart brings forth good things, and an evil man out of the evil treasure brings forth evil things. 36 But I say to you that for every idle word men may speak, they will give account of it on the day of judgment. 37 For by your words you will be justified, and by your words you will be condemned (Matthew 12)."

A good person should express the treasures of the good they have nurtured within. An evil person will manifest the darkness within them. We will give an account of who we are, by the words we have spoken, on the day of judgement. Our words are part of our spiritual well-being. They reveal our virtues and will determine our eternal fate before God. So we should not be careless with the words we use; they have far-reaching consequences if used recklessly.

24 Do you not know that those who run in a race all run, but one receives the prize? Run in such a way that you may obtain it. 25 And everyone who competes for the prize is temperate in all things. Now they do it to obtain a perishable crown, but we for an imperishable crown. 26 Therefore I run thus: not with uncertainty. Thus I fight: not as one who beats the air. 27 But I discipline my body and bring it into subjection, lest, when I have preached to others, I myself should become disqualified (1 Corinthians 9).

If we have goals we value, we must be disciplined to attain them. The outcome we desire should be worth the effort we put in. Our intentions should be clearly defined by our conduct. As believers in Christ we can not just do whatever suits our whim. We have set our sights for an imperishable reward, and must do whatever it takes to attain it. We can bring our body to submit to who we want to be, by our words and actions. We want to live as born-again Christians; filled with The Holy Spirit; to live in the Life of The Spirit and not of this world. So there must be a singular difference between us and others, in how we handle circumstances and relationships. Discipline is the restraint that keeps us on the straight and narrow. So we must be temperate with the desires of our flesh and be scrupulous to gain the reward Christ has for us. 

23 Keep your heart with all diligence, for out of it spring the issues of life. 24 Put away from you a deceitful mouth, and put perverse lips far from you (Proverbs 4).

The heart is a storage for emotions and attitudes that impact our relationships with others. We express the emotions that we have allowed to take root. We must keep our heart from piling on putrid attributes that harm us and those around us. The mouth reveals the heart's contents. We should be careful not to put out what is foul and perverse.

45 A good man out of the good treasure of his heart brings forth good; and an evil man out of the evil treasure of his heart brings forth evil. For out of the abundance of the heart his mouth speaks (Luke 6).

As difficult as it is to restrain ourselves from speaking or acting out on our emotions, we have to strive to be better each time. We don't have to be roped into others emotions nor do we have to become like them. We are the children of The Most High God; we represent His Likeness. We should not leave a bad taste in others' mouths. We should restrain ourselves from getting carried away by our emotion, and be intentional about the outcome we are looking to achieve. We should opt out of any engagement that will harm others, while it defiles us. We must keep guard of our hearts from the effects of bitterness. If we love God we will do what we can to please Him. When we restrain ourselves from evil, we are freeing ourselves to do good.

12 Therefore, as God's chosen people, holy and dearly loved, clothe yourselves with compassion, kindness, humility, gentleness and patience. 13 Bear with each other and forgive one another if any of you has a grievance against someone. Forgive as the Lord forgave you. 14 And over all these virtues put on love, which binds them all together in perfect unity (Colossians 3).