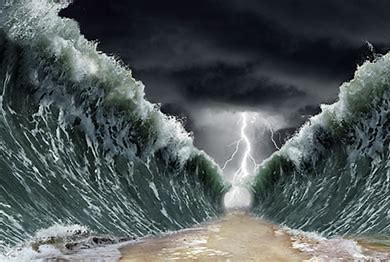 Hang on
We feel less control when we are in unfamiliar surroundings or when caught off guard. We are more confident when we are in our element, and our routine is undisturbed. In reality, we are never in complete control of any moment. We don't know what others are going to do next, or what we will run into as we take on our responsibilities. No matter how good technology is or reliable others may be, we should be prepared for any contingencies; expect delays, failure or disappointments. Everyday is chock-full of uncertainties. Put your confidence in The One Who knows what each day brings.
10 And when Pharaoh drew near, the children of Israel lifted their eyes, and behold, the Egyptians marched after them. So they were very afraid, and the children of Israel cried out to The Lord. 11 Then they said to Moses, "Because there were no graves in Egypt, have you taken us away to die in the wilderness? Why have you so dealt with us, to bring us up out of Egypt? 12 Is this not the word that we told you in Egypt, saying, 'Let us alone that we may serve the Egyptians'? For it would have been better for us to serve the Egyptians than that we should die in the wilderness."13 And Moses said to the people, "Do not be afraid. Stand still, and see the salvation of The Lord, which He will accomplish for you today. For the Egyptians whom you see today, you shall see again no more forever. 14 The Lord will fight for you, and you shall hold your peace."
15 And The Lord said to Moses, "Why do you cry to Me? Tell the children of Israel to go forward. 16 But lift up your rod, and stretch out your hand over the sea and divide it. And the children of Israel shall go on dry ground through the midst of the sea. 17 And I indeed will harden the hearts of the Egyptians, and they shall follow them. So I will gain honor over Pharaoh and over all his army, his chariots, and his horsemen. 18 Then the Egyptians shall know that I am The Lord, when I have gained honor for Myself over Pharaoh, his chariots, and his horsemen." (Exodus 14)
The children of Israel had left Egypt, after some four hundred years as slaves. God had brought them out with great signs and wonders. Pharaoh finally let them go, when God killed all the first-born males of the Egyptian children and their livestock. Moses led the Israelites out of Egypt by The Mighty Hand of God. As one could imagine, the Israelites must have longed for their new beginning out of Egypt, with bated breath . They had seen God do great wonders and were eager to go out. They did not know that God had hardened Pharaoh's heart to pursue after them. When they saw Pharaoh's army, the Israelites were overwhelmed with trepidation. They had no weapons, nor military experience to fight Pharaoh's men. This freedom they had longed for felt like an ill-fated omen. God fought for them:  He parted the Red Sea; the Israelites did walk in the midst of the sea on dry land, but Pharaoh and his army drowned in it.
After a long struggle, we may finally get some relief. We become elated with future prospects, even formulate some plans of what we imagine life will be. While we bubble up with excitement, we meet difficulties, or some insurmountable challenges. We begin to cast aspersions on our hopes as merely being too good to be true. We start to believe that things would have been better, if we had just been content with where we were. God hardened Pharaoh so that the children of Israel would depend on Him. God also wanted the Egyptians to know He was The God Who was fighting for His people. He would ultimately get the recognition and glory for their freedom. Sometimes God orchestrates trouble in our lives to bring Him the honor He desires. Be still and believe in God's deliverance. God will get excel at every phase of advancement. Trust God by taking the next step forward. As you encounter difficulty, keep going forward, and don't focus on your challenges. The adversity you see today is not yours to overcome; whether it is people who are obstructing your progress, or physical challenges. The God Who made a way out will make a way in. Only look back to see how far God has brought you, and cling to that understanding. 
16  No king is saved by the multitude of an army; a mighty man is not delivered by great strength. 17  A horse is a vain hope for safety; neither shall it deliver any by its great strength. 18  Behold, the Eye of The Lord is on those who fear Him, on those who hope in His Mercy, 19  to deliver their souls from death, and to keep them alive in famine. 20 Our soul waits for The Lord; He is our help and our shield. 21  For our heart shall rejoice in Him, because we have trusted in His Holy Name. 22  Let Your Mercy, O Lord, be upon us, just as we hope in You (Psalm 33).
A king is not delivered by his army or his horse; they will not guarantee his safety. Leaders are often surrounded by security, and their military is always at the ready, in case of any impending threat; yet these measures could fail to avert an attack. Even the most experienced or trained personnel can make errors. If there's no guarantees for those who have so much power, what about the plebs? There's hope for those who fear God and hope in His Mercy. He is our shield and help at all times. When we have God protection, we have the best security. Trust in His Holy Name and He will deliver you from harm. Hope in God's Mercy, and fear Him alone. Don't stake your life on fickle resources. Rejoice in The Lord with high expectations. There are no guarantees of security or stability in wealth, power or human strength. God's Eye is on those who depend on Him, to preserve their souls and sustain them in the midst of adversity.
17 Though the fig tree may not blossom, nor fruit be on the vines; though the labor of the olive may fail, and the fields yield no food; though the flock may be cut off from the fold, and there be no herd in the stalls— 18 Yet I will rejoice in The Lord, I will joy in The God of my Salvation. 19 The Lord God is my strength. He will make my feet like deer's feet, and He will make me walk on the high hills (Habakkuk 3).
It's natural to have joy when everything is hunky-dory; when in good health, have money in the bank, and are generally doing well. But when we begin to experience losses, we lose our joy. God provides us with everything we need to get through each day. If we can learn to rejoice in God, and not in our possessions, we will have the strength to face another day. We may not have a consistent amount of resources squirreled away, but we still have God. He will enable us to overcome challenges when we find our greatest joy in Him. He is our full portion, when we have a meager supply of everything else. Make God your constant source of joy. He will gives us the strength and wisdom to be adaptable to our shifting circumstances.
3 Do not put your trust in princes, nor in a son of man, in whom there is no help. 4 His spirit departs, he returns to his earth; on that very day his plans perish. 5 Happy is he who has The God of Jacob for his help, whose hope is in The Lord his God, 6 Who made Heaven and Earth, the sea, and all that is in them; Who keeps truth forever (Psalm 146).
Leaders are still humans; their very lives are not a guarantee. Do not put your hope in leadership. God determines your entire life. Leaders may have big plans, but they may not live long enough to even see them realized. Blessed and joyful is the one who makes God his help. Why should we trust God above leaders? Because He created everyone and everything in Heaven and Earth. He is in complete control of all that He has made, including your life. He is also reliable, and will not fail to keep His Promises. Unlike leaders, God makes promises that He is bound to keep. God has made plans for your entire life; plans that He will not fail to bring to pass. No one else has a concrete plan for your present or future.
"Let not your heart be troubled; you believe in God, believe also in Me. 2 In My Father's House there are many mansions; if it were not so, I would have told you. I go to prepare a place for you. 3 And if I go and prepare a place for you, I will come again and receive you to Myself; that where I am, there you may be also." (John 14)
If you believe in God The Father, you must also believe in The Lord Jesus. He is God. He said if you believe in God, you must also believe in Him, because He is One with God. He implores us to not fret, fear or worry. This life is temporary, because He has gone to prepare a permanent place for us. The Lord Jesus compels us to believe in His return and hope in an eternal future with Him. We don't have to be troubled, overwhelmed or prostrate with despair, because our circumstances are transient. The Lord will come again to receive us as His Own. Our eternity is secured and He has guaranteed it. What could compare with what The Lord has promised us? Look at all He has created, and be amazed. How can anything compare with all the perfection He has prepared for us? Nothing can be more exhilarating than an endless life spent with Him. He is coming to receive us, because He longs for us to be where He is. He yearns to be with us forever.
10 Again, it says, "Rejoice, you Gentiles, with his people. 11 And again, "Praise The Lord, all you Gentiles; let all the peoples extol Him." 12 And again, Isaiah says, "The Root of Jesse will spring up, One Who will arise to rule over the nations; in Him the Gentiles will hope." 13 May The God of hope fill you with all joy and peace as you trust in Him, so that you may overflow with hope by the Power of The Holy Spirit (Romans 15).
As you carry on with this life, may The God of hope fill you with all joy and peace, as you trust in Him. When we trust in God, we put all our confidence in Him alone. We don't expect Him to fail us, but to prosper in all that He has planned for us. We can be filled with all, not just some, but all joy and peace in an unsettled world. Praise God for numbering you among His Own; calling you His with His people, Israel. Every promise that belongs to Israel is granted to you as well. Praise God with His people, because God is not against you. Overflow with the hope of His people; brim with joy by the Power of His Holy Spirit. This is the gift of God for all those who trust in Him—The Holy Spirit. We are never alone; God dwells in us by The Spirit of His Son. In The root of Jesse—The Lord Jesus, we, Gentiles, have been blessed with His chosen, Israel. May we trust in God and be filled with all joy and power in The Holy One, who rules over all the nations. 
8 Cause me to hear Your Lovingkindness in the morning, for in You do I trust. Cause me to know the way in which I should walk, for I lift up my soul to You. 9 Deliver me, O Lord, from my enemies; in You I take shelter (Psalm 143).
The first hours of each day that are spent in God's Presence are most precious. The first thing we do each morning prepares us to face the day. Trust God with the early hours of your day. He will direct your paths, if you give Him your most valuable time. Allow Him to reveal Himself to you. Be receptive to receive God's correction, and learn how to walk in His Ways. Let God train you in righteousness as you allow him into your inner sanctum.
Depend on God to deliver you from your enemies, and do not take matters into your own hands. Hide yourself under God's Shadow; make His Presence your shelter, and no adversary will prevail against you. Before you embark on your day, give God control of every possible scenario, including those who will likely come against you.
6 For affliction does not come from the dust, nor does trouble spring from the ground; 7 Yet man is born to trouble, as the sparks fly upward. 8 "But as for me, I would seek God, and to God I would commit my cause—9 Who does great things, and unsearchable, marvelous things without number(Job 5).
You can never know what each day brings. You can plan well and still find yourself in a pickle. Seek God and commit your plans to Him, and He will give you the wisdom to win the day. Trouble is part of life; it is not some unusual experience that happens to a few. We are never prepared for challenges, but we can entrust God with the good and bad. He does great and unsearchable things that we may not understand; yet, they are within the scope of His Will. When we commit ourselves to God, we don't need to have all the answers. 
Start each day in God's Presence and commit your cause to Him. He will go ahead of us, if we trust in Him, and keep moving forward. Regardless of the obstacles, foes or troubles we face, God is our hiding place and victory. He will get the honor and glory, even when we feel like we are at our wits end. He may toughen our circumstances so that we can fully depend on Him. We can put our confidence in God; and not in own resources, wisdom or leaders. He has already planned our present and future. We have an eternal place prepared for us; all of this life is temporary. Our hope is in all that The Lord has promised us. He will not fail us. Our present and future are secured, so we should be filled with all joy and peace in the Power of The Holy Spirit. We belong to Him with all of His chosen people, Israel. The Mighty One of Jacob, The Holy One of Israel is with us; and is coming back to receive us to Himself. He will never leave nor forsake us. 
5 Trust in The Lord with all your heart, and lean not on your own understanding. 6 In all your ways acknowledge Him, and He shall direct your paths (Proverbs 3).